Call us delusional, but Ryan and I didn't plan on having children for quite some time. We built this house that is half shop, half house. More like condo... whatever, it only has one bedroom. One bathroom. One kitchen/living area. It's huge for this, but there is no baby space. The plan was to live in this for five or six years, then build our dream home, then have like 14 kids. Yeah, no. Within 3 weeks of moving into country-barn-luxury-condo, I got the big fat positive -OH CRAP HOW DID THAT HAPPEN?!- home pregnancy test. About eight months to the day of our move in, we had EK.
We debated on where to keep her. The bedroom? Thank God we decided against this... she never slept. When she DID sleep, her tracheomalacia made her snort and gurgle like a furnace... no sleep would ever occur if she was in our room. We thought about the bathroom. Probably too noisy. So, we ended up parking the crib right in the middle of Grand Central Station- aka the living room. "Decorating" was hard. The bedding couldn't clash too much with the color of our huge rug, it would drive me insane. Ryan's parents gave her a gorgeous crib that matched our furniture well enough, and my parents gifted us the perfect bedding to match our current decor. We found a nice changing table that went along with everything.
It sounds weird to have your baby sleep in the living room, but somehow it has worked for 13 months and 14 days worth of nights. There has been the occasional late night wake up when Ryan comes home from work, but for the most part our kid sleeps like a rock. (knock on wood!)
Crib... I have since made Ryan move it to be centered!
The changer sits to the right of the crib now. The TV is on the wall to the right, recliners to the left.

I'm so happy that Pinterest wasn't popular when I was pregnant. I'm sure I would have made Ryan built an add-on just so I could put some of those precious ideas to use. If you check out my pinBoards, you can see that I
am
looking forward to her next "big girl room".... just a little bit.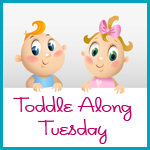 Go check out all the other mommies who have linked up with Growing Up Geeky for Toddle Along Tuesday! This week's theme is nurseries.