When I was newly pregnant with Ella Kate, I knew the kind of mom that I would be and the type of baby I would have. I would have the perfectly stocked diaper bag, the happiest baby
boy
ever, and we would never have to spend a dime on formula. That stuff was for weaklings. Ella Kate would spend every night in her crib from day one (there was no way in Hell that I would let her sleep near me- I didn't want her getting used to it!)
We would never call her EK
. Oh yeah, and I also decided that she would have black hair, just like her daddy- but with my green eyes.
Then,
she
was born. On one of my first trips out of the house with her alone, I found my diaper bag was missing one special item: a
diaper
. She cried, a lot. Typically, she cried from 9pm-3am, every.single.day. For about 2 weeks, she cried like that. We chalked it up to gas. That sample of Enfamil Newborn saved our butts at 12am, when the poor baby was starving because I just couldn't cut it.
I guess one day I will thank Ryan for this picture.
I can't count the number of nights I spent with her, sleeping in the recliner because it was the only way to get her to stay asleep.
EK
also came out with blonde fuzzy hair, and stunning blue eyes.
Ryan and I were convinced we would have a little boy. Guess again, but she sure looks cute like this, huh?
I guess what I'm getting at is this: Don't be so obsessed with expectations and things that really won't matter in the larger scope of your baby's life. I've always been a forgetful person, and my family deals with it. No matter how she cried, ate, slept, and even no matter what we CALL her- we got a healthy, happy baby girl out of the deal.
She is perfect, and just what we had hoped she would be.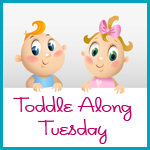 Feeling really lost in the world of babies? Need some more advice? Check out all of the other wonderful mommy bloggers who have linked up with
Growing Up Geeky
for
Toddle Along Tuesday
!