Rare is the moment where EK is asleep, Ryan is gone, and I am alone to do whatever I want. The thing is, when I have this kind of time- I can't decide what to do. I usually do a load of laundry and then sit. I look at Pinterest, and try to find something to make that won't require a drill, hammer, or saw. Damn you, Pinterest. I can't stray too far outdoors, or else the munch will wake up and fear for her life, confined in a crib until the rapture. Like I would let her sit there that long.
Anyways, I am pretty useless. I think and think... then she wakes up, and I can't do anything but play. Which is cool, not incredibly productive, but definitely important. Here's what I WANT to do with my "free" time though... and just might. One of these days.
Shop for all of my pinned outfits.
Stain the concrete on our front porch.
Wrap the poles on the front porch in wood casings.
Plant a rose garden.
Grow grapes.
Teach my dogs new tricks. Too bad they are a little dumb still.
Paint my toenails.
Try a new 'do.
Make EK an outfit.
Buy a sewing machine, and learn to use it, so that I can make that outfit.
Plant a
RED
crape myrtle tree by the driveway entry.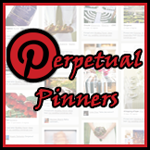 Link Up with Nykki @ Another Day In Paradise for Perpetual Pinners each Monday!